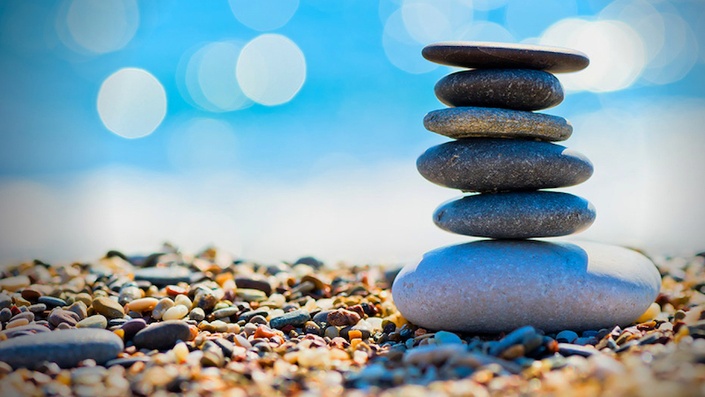 Diploma in Meditation|Meditation for Beginner to Advanced
Learn Meditation Techniques to reduce stress, anxiety, increase focus productivity and experience calmness joy and bliss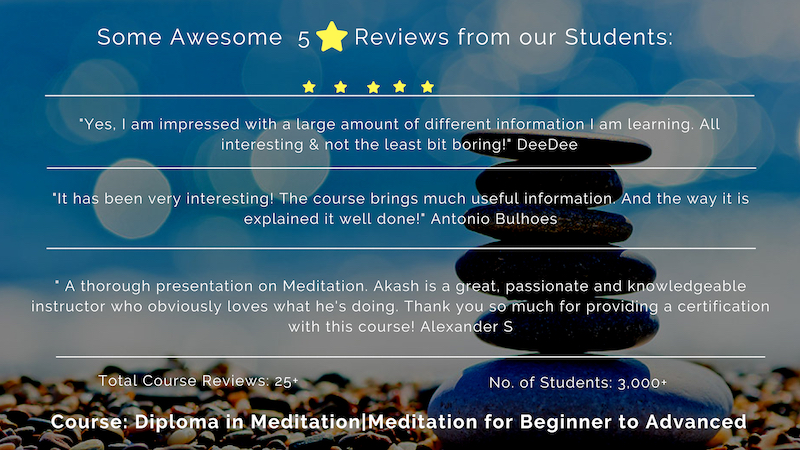 Summary of what you will get with this course:
-Fabulous Benefits of Meditation (scientifically proving all facts and figures)
-Discussion of the most common type of Meditation Practices pursued all over the world (will give you a good idea on which one to pursue and go deep into based on what you prefer)
-My 10-Day Vipassana Meditation Experience (very interesting)
-The Four Noble Truths given by Gautama The Buddha (basically practical lessons on how one can end suffering)
-How to Meditate: 4 Simple Steps and breaking it down into very digestible checkpoints
-21-Meditative Challenge along with many Guided Meditations
-Final Exam and CPD Certificate (including with this course)
-Lifetime access to all lectures
-Audio Files (very low in size) of all Lectures to stream this course very easily
-A Master Meditation Manual(covers complete script of this course)
Meditation is a vast topic, and just a a few hours of this course will obviously not do justice to it, however, I feel its an effective way for anyone wanting to start this beautiful practice.
This course is also for anyone like me who is an intermediate/advanced meditator (personally I have 3000-4000 hours of meditation behind my back) so I have been doing it for more than a decade and only recently have moved on to sitting cross-legged for many hours per day!
This course can also be helpful for all wellness professionals wanting to help their clients to include mediation in their lives.
Only when you are truly aware of the fabulous benefits of meditation, will you gather sufficient motivation to start sitting down cross-legged from anything from 5 min to even 20 minutes daily, maybe even twice a day.
For a modern person, this much time devoted to meditation is enough, however, anyone wanting more benefits can/should do more.
Unlike, other things, more is better with meditation. But then we are all not yogis and actually have a life and the above mentioned time frame is sufficient to induce positive benefits.
In Module 2, I have taken help from a lot of studies done on meditationand how it affects our health. Make sure to go through this module, as literally knowing how this simple act of concentrating on your breathing can have a profound effect on your health.
In Module 3, I discuss various types of Meditations. In ancient spiritual texts, there have been mentions of over 1000 types of mediations, however in this course I discuss few common types of meditative practices which are widespread around the world.
Starting with Vipassana Meditation, I discuss my 10-Day Experience at their retreat(All Vipassana retreats worldwide are 100% Free of Cost)
I then discuss ZenMeditation, Loving-KindnessMeditation,TranscendentalMeditation. I then introduce Yoga as a form of meditationand finish this module with The Four Noble Truths taught by Gautama The Buddha.
Module 4 is where therubber hits the road. Learning and empowering yourself about the benefits and types of meditation is very essential to at the very least motivate us and generate enough momentum to give this ancient healing art a sincere try.
If you already have been practicing meditation and have not been able to find continuous success, then gaining the information I discuss in the first 3 modules will most probably propel you to give this fabulous technique a sincere try again:)
So in Module 4,I break down on how a beginner can start meditating in 4 easy steps!
You will not only be learning about how to find the best place in your house to meditate, but also learn important pointers on how to achieve the most effective posture(s) to meditate i.e. The Best Butt Position, The Best Leg Positions, Shoulder, Head, Spine and Hand positions.
Module 5 will provide you a 21-Day Meditation Challenge for Beginners/Advanced. This program has certain rules and guidelines and you'll be required to stick to them in order to get fabulous results.
In order to make the most of your Meditation Challenge, I have created many guided meditations. From observing your breath as a starting point to observing sensations all over your body to AUM Chanting, there are many guided meditation sessions that you will find very useful.
I highly recommend that everyone who pursue this course, take up this 21-Day Challenge.
Module 6 is your final exam and you need to score above 50% if you want your CPD Certificate.
All instructions on how to get your certificate is provided in this module.
May you Prosper
May you Heal
May you all be Blessed
Akash
Your Instructor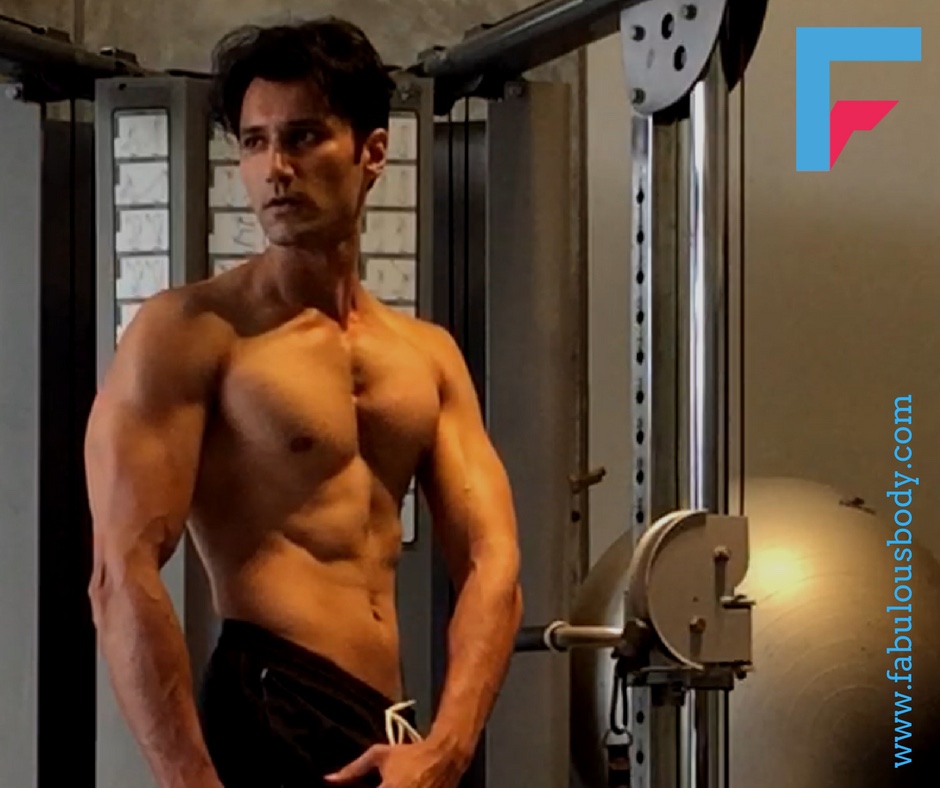 Akash is Founder & Creator at Fabulousbody.com which has been featured in The Huffington Post, MindBodyGreen. He also writes on Quora and his answered has garnered more than 12 million views in less than a year!
Akash is a Holistic Health Practitioner and board certified from American Alternative Medical Association. He also has two certifications from National Academy of Sports Medicine (NASM)—Certified Personal Trainer and Performance Enhancement Specialist.
He is also a best-selling course instructor on Udemy with 2500+ positive reviews and more than 50,000 students.
Akash has more than a decade of experience in the fitness industry in various positions— personal trainer, yoga and nutritional expert. In 2010, he got an opportunity to open his own health club under the name of Jovenus Fitness which he helped thousands of people to get Lean, Fit & Healthy.

Akash is also an author of three books which can be found on Amazon.
Frequently Asked Questions
When does the course start and finish?
The course starts now and never ends! It is a completely self-paced online course - you decide when you start and when you finish.
How long do I have access to the course?
How does lifetime access sound? After enrolling, you have unlimited access to this course for as long as you like - across any and all devices you own.
What if I am unhappy with the course?
We would never want you to be unhappy! If you are unsatisfied with your purchase, contact us in the first 30 days and we will give you a full refund.